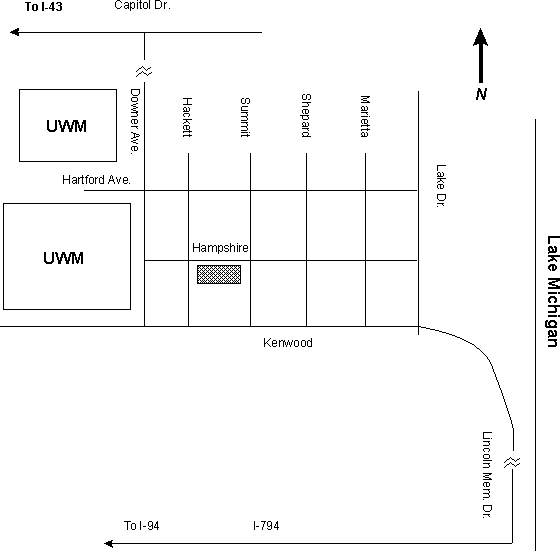 Directions to Caliburn Fencing Club, Plymouth Church Gym, 2717 E. Hampshire, Milwaukee, WI
From South/Southwest: Take I-94/I-43 to downtown Milwaukee. Take I-794 East to the lakefront and exit at Lincoln Memorial Drive. Turn left and go north on Lincoln Memorial all the way to where it ends at the intersection with Lake Drive and Kenwood Avenue. Turn right on to Lake Drive, and immediately turn left on to Hampshire (the first left turn possible from Lake Drive). Plymouth Church is a large brownstone building at the corner of Hampshire and Summit. The Gymnasium entrance is along Hampshire.
From West: Take I-94 East to Downtown Milwaukee, then I-794 East to Lincoln Memorial Drive. From Lincoln Memorial, follow the directions given above.
From North/Northwest: Take I-43 South and exit at Capitol Drive. Head east on Capitol to Downer Av. (the second to last stoplight before the lake). Turn right on to Downer. Hampshire makes a 'T' intersection with Downer directly in front of Mitchell Hall (a large red-brick building) at UWM. Turn left on to Hampshire. Plymouth Church is one block up.
From North Shore area: Go south along Lake Drive until you reach the intersection with Lincoln Memorial Drive. Hampshire is the last right turn you can make before the traffic light.